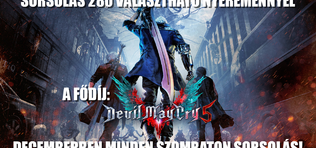 A december szokásosan a sorsolás hónapja, így ismét minden szombaton 15 nyertest fogok kisorsolni a jelentkezőkből. Idén rendkívül nagyot ment a szülinapi sorsolás és hála nektek, a karácsonyi sorsolásra konkrétan új rekord született, összesen 280 játékból lehet választani.
Nagyon köszi minden felajánlónak, hiszen nélkületek ez nem jöhetett volna létre, szóval jövőre is csak így tovább, a blog folyamatosan fogad felajánlásokat ;)
A hatalmas mennyiséghez természetesen egy fődíjat is hozzávásároltam, ami idén nem más, mint a Devil May Cry 5!
Óriási köszönet, hogy idén is a bloggal tartottatok, remélem jövőre is találkozunk!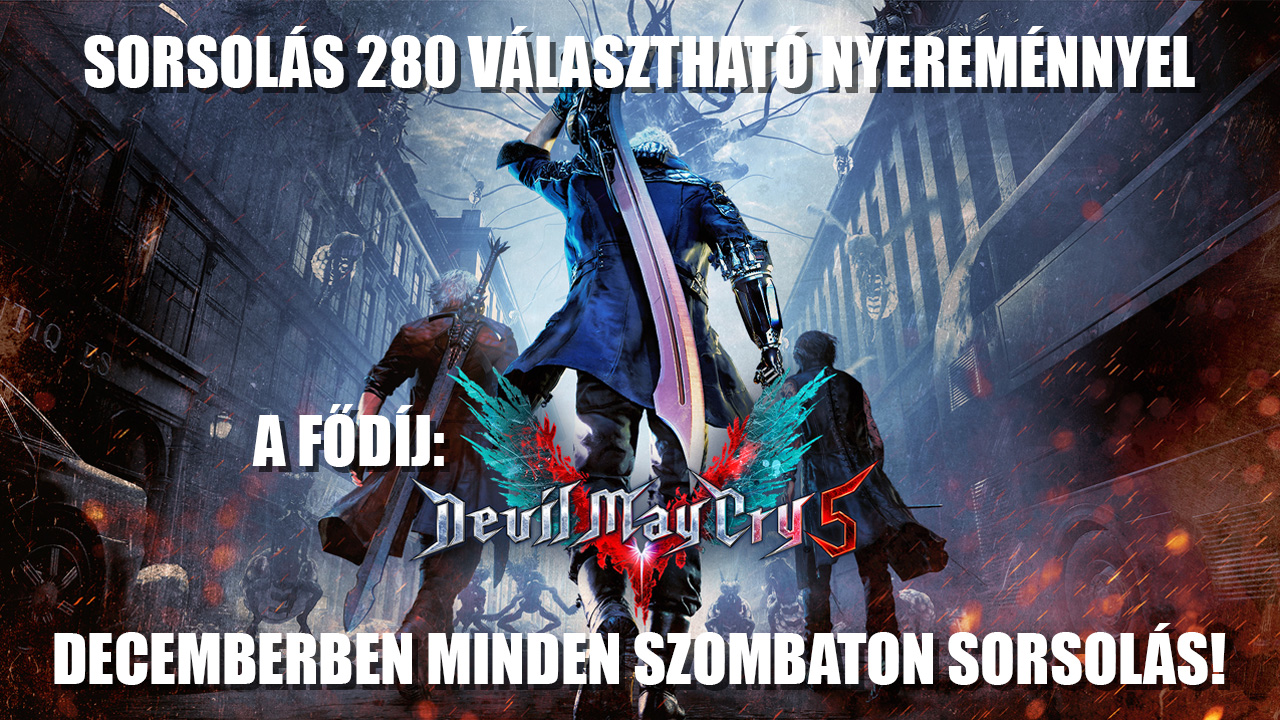 A sorsolás

A sorsolás Facebookhoz kötött:
Karácsonyig minden szombaton (december 7, 14, 21) 15 játékot fogok kisorsolni, 24-én pedig a Devil May Cry 5 fődíjat. Az eredményhirdetés szombat esténként 19:00-kor lesz, a sorsolás a random.org segítségével történik.
A nyertesek listáját Facebookon, a Steam csoportban és a poszt végében fogom közölni. Ha látod a nevedet, akkor nincs más dolgod, csak írni egy privát üzenetet a Facebookon a blognak, én pedig dobom is a nyertes kulcsot a játékhoz.
A választható nyeremények:
A játékot csak magadnak aktiválhatod, mivel a sorsolás célja, hogy olyanhoz kerüljön a játék, akit tényleg érdekel.
Sok szerencsét mindenkinek!
December 7.
Péter Cseresnyés - Magicka 2
Ákos Limpár - Poly Bridge
Tibor Csík - Action Henk
Gombás Arnold - Anomaly: Warzone Earth
Ferencz Csuszner - Old Man's Journey
Dániel Császár - Cat Quest
Péterffy Zoltán - Tacoma
Annamária Nagy-Franczel - Emily is Away too
Zimányi Gábor - Lara Croft GO
Norbi Kiss Cities - Wurm Unlimited
Móna Dávid - Macdows 95
Zsolt Varga - Snake Pass
Peszlen Aida - Cultist Simulator
Angel Twosix - Dead Island Defintive Edition
Zoltán Szemethy - Anomaly 2
December 14.
Gergely Nagy - Z.I.O.N.
Csaba Varga - The Sexy Brutale
Péter Méhes - SYNTHETIK: Legion Rising
Jancsovics László - Warhammer 40,000: Mechanicus
Tamas Szabo - Crash Bandicoot™ N. Sane Trilogy
Zsolt Náfrádi - The Walking Dead: 400 Days
Zoltán Tamás - EARTH DEFENSE FORCE 4.1 The Shadow of New Despair + 18 DLC
Bebők Barnabás - Last Day of June
Viktor Szauer - Europa Universalis III Complete
Czeglédi Attila - RIVE: Wreck, Hack, Die, Retry!
Ádám Terebesi - Cities: Skylines + After Dark DLC
Flavi Zsigmond - Overwatch + 3 Loot Box
Tamás Karádi - Galactic Civilizations III
Krisztián Rétfalvi - Torment: Tides of Numenera
Edit Kovácsné Jurinák - Cook, Serve, Delicious! 2!!
December 21.
Róbert Kollmann - Human: Fall Flat
Károly Tanács - Carmageddon: Max Damage
Zoltan Erdei - Murdered: Soul Suspect
Réka Adamik - Shenmue I & II
Tamás Tölgyes - Avernum 3: Ruined World
László Havrilla - Deep Sky Derelicts
Norbert Tóth - SOULCALIBUR VI
Marci Nagy - Guts and Glory
Gergely Szőcs - Kind Words
Henrik Hoffka - The Dream Machine: Chapter 1 & 2
Adam Nemeshazi - Duskers
Süli Zsolt - The Spiral Scouts
Péter Meggyesi - Jalopy
Ferenc Tasi - Tannenberg
Varga Ádám - Yakuza Kiwami
Fődíj - Devil May Cry 5 - Vén Dániel
A játékokat felajánlotta: master shooter (tiszteletbeli játéknapló főtámogatónk), reprobus, rosejbli, sityi, Khronos, Louro, aperager, Grabo, Motig, TheGamers Hungary FB csoport, lafaty, eyesis, Dániel Kozmács, Zimányi Gábor, Demerzel, Varga Nobert, evoka, Gonda Gábor, Buuster, CrimsonX, geri, budo82, KubanitoS, Freddie, jamy79, genndy, Louro, FollowTheORI, Bús Rudolf, Geomow, Kiru Hoshino, Csanád és a játéknapló csapata