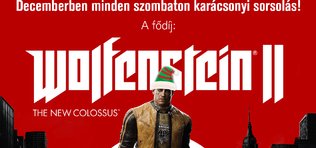 December szokásosan a sorsolás hónapja lesz! Minden szombaton karácsonyi sorsolást tartunk, amikor is minden alkalommal 15 nyertest fogunk kisorsolni a jelentkezőkből.
A felajánlásokban továbbra is tök jók vagytok, nagyon köszi ezért mindenkinek, aki bármivel is hozzájárult ehhez az eseményhez.
A fődíj kiválasztása idén egy kicsit nehéz volt, hiszen a PUBG népszerűsége továbbra is az egekben van, de nem szerettem volna egymás után ugyanazt a játékot sorsolni, ezért inkább rátok bíztam a döntést. A fődíj pedig nem más, mint a Wolfenstein II: The New Colossus!
Óriási köszönet nektek, hogy idén is a bloggal tartottatok, remélem jövőre is találkozunk!
Most pedig akkor jöjjön a lényeg, a sorsolás!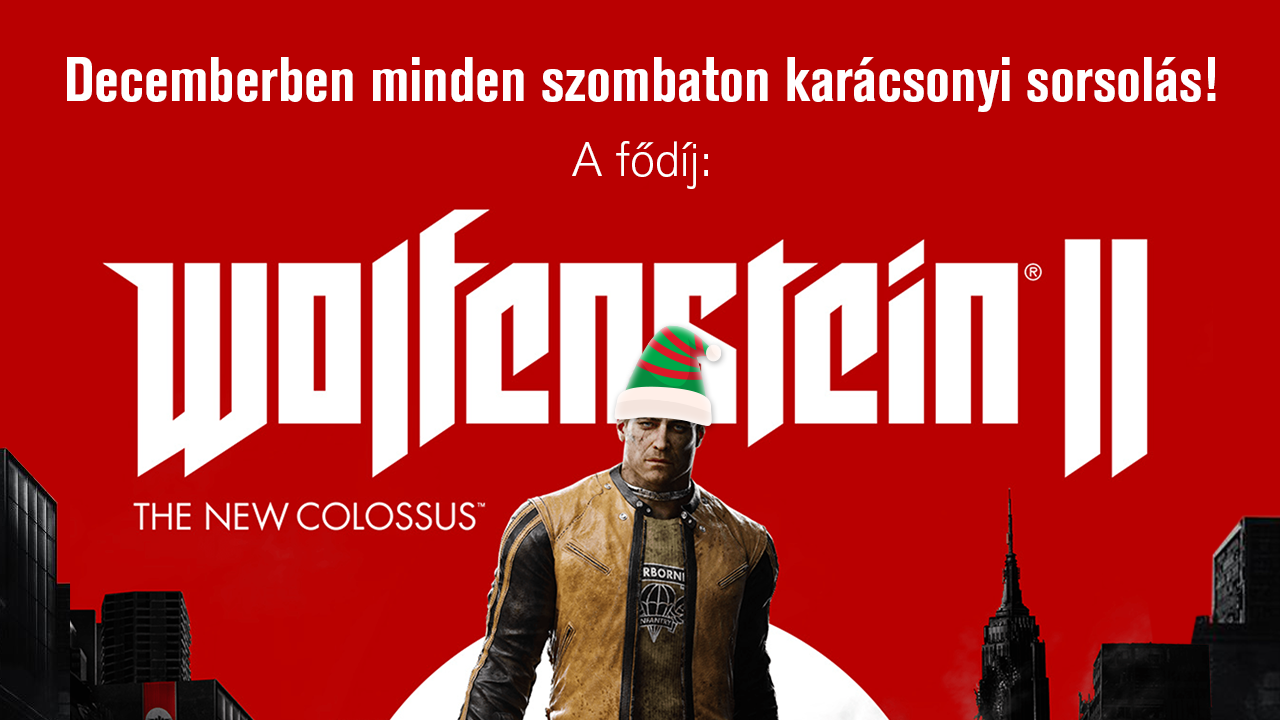 A sorsolás

A sorsolás Facebookhoz kötött, hogy minél több emberhez jusson el ez a hatalmas lista és hogy egy fokkal egyszerűbb legyen a jelentkezés:

Lájkold a játéknaplót, ha még nem tetted, lájkold a sorsolást és kommenteld alá a játék címét (több is lehet), amit szeretnél megnyerni.
Minden szombaton (december 9, 16, 23) 15 játékot fogok kisorsolni, 24-én pedig a Wolfenstein II: The New Colossus fődíjat. Az eredményhirdetés szombat esténként 19:00-kor lesz, a sorsolás a random.org segítségével történik.
A nyertes listáját a poszt végében fogjuk közölni. Ha látod a nevedet, akkor nincs más dolgod, csak írni egy privát üzenetet a Facebookon a blognak és mi már dobjuk is át a nyertes kulcsot a játékhoz.
A választható nyeremények:
A játékot csak magadnak aktiválhatod, mivel a sorsolás célja, hogy olyanhoz kerüljön a játék, akit tényleg érdekel.
Sok szerencsét mindenkinek!
A Wolfenstein II: The New Colossus fődíjat nyerte:  Péter Szalai
December 23.
Ferenc Hordas - Monochroma
Gergő Szabó - Shoppe Keep
Attila Bedő - Chip
Kápolnási Tamás - Infinifactory
József Bebők - Fish Fillets 2
Bálint Takács - Minion Masters
Szabó Zoltán - Tropico 5
Károly Tomasits - Saints Row 2
Ádám Földvári - Shark Attack Deathmatch 2
Ádám Terebesi - Stellaris
Brigitta Fózer - Hector: Badge of Carnage
Anett Hegedus - FaceRig
Nyíri-Magyari Nikolett - Hitogata Happa
József Fekete - Corporate Lifestyle Simulator
Krisztián Szuhánszki - Snakebird
December 16.
Balog Zoltán - Valhalla Hills
Tibor Hesz - DISTRAINT
Ádám Puskás - Beatbuddy: Tale of the Guardians
Adrienn Horváth - Bioshock Infinite
Jancsovics László - Orange Moon
Musha Kage - Regency Solitaire
Zoltan Drango - Three Dead Zed
Kathleen Dirthpush - S.T.A.L.K.E.R.: Shadow of Chernobyl
Ferenc Tasi - Crash Time 2
István Hetei - Postal 2
Kigyós Gergely - The Incredible Adventures of Van Helsing: Final Cut
Gergely Nagy - Murder Miners
Tibor Csík - Squishy The Suicidal Pig
Roland Bebők - Poker Night 2
Marosi István - Nevermind
December 9.
Annamária Nagy-Franczel - Her Story
László Havrilla - CastleMiner Z
Adam Nemeshazi -Volume
Attila Szilágyi - NOT A HERO
Patyi-Mózer Ágnes - Ice Lakes
Molnár Dániel - 1001 Spikes
Kohári Márk - S.T.A.L.K.E.R.: Clear Sky
Csaba Szaszfai - Offworld Trading Company
Kovács Zoltán - Risen 3 Complete Edition
Márk Vizslán - Candle
Edit Kovácsné Jurinák - Legends of Eisenwald
Zoltán Varga - Good Robot
Gombás Arnold - I Shall Remain
Tamas Szabo - The Interactive Adventures of Dog Mendonça & Pizzaboy
László Csehovics - I am Bread
A játékokat felajánlotta: master shooter (tiszteletbeli játéknapló főtámogatónk), aperager, Grabo, Motig, lafaty, eyesis, Zimányi Gábor, Demerzel, Varga Nobert, evoka, Gonda Gábor, Buuster, CrimsonX, geri, budo82, KubanitoS, jamy79, genndy, Louro, FollowTheORI, Bús Rudolf, Geomow és a játéknapló csapata